Brighten Up Your Autumn Garden
The cooler weather and shorter days don't mean the end of colour in your garden! We have chosen our top 10 autumn plants that are guaranteed to add a splash of colour on a rainy day.
For our autumn planting list, Dwarf Banksias make a feature as they are suitable for any garden and love showing off in the cooler weather. We've also added some well-known stars into the mix like Cates Orange, Southern Stars and our Radiant Magenta that are all great low growing shrubs for brightening up the garden.
Planting in autumn has other benefits too – with the temperature dropping and an increase in rainfall it is easier to grow and give your plants time to establish before the summer heat, making it the perfect time for the more low maintenance gardener.
Here are our top 10 autumn plants:
Little Carnarvon Candles (Banksia ashbyi Dwarf)
Banksia ashbyi Dwarf is our top pick for your autumn garden. This showy banksia produces stunning orange ornamental flowers during autumn, contrasting against its soft grey foliage. This banksia is a fantastic feature plant for your garden and is perfect for smaller gardens including coastal – growing to a 1m high and 1.5m wide.
Click here to shop Little Carnarvon Candles 
Cate's Orange Everlasting Daisy (Chrysocephalum apiculatum 'Cate's Orange')
A season favourite again! Cate's Orange is a grey leaf ground covering plant that thrives in full hot sun. The Chrysocephalum will perform if planted in a garden bed situation or large planter, growing to 30cm. It looks stunning planted in groups or cascading in large pots, multi planted with Verticordia densiflora and Kangaroo Paws.
Click here to shop Cate's Orange
Myrtle (Thryptomene baeckeacea Prostrate)
If colour is what you are after then Thryptomene baeckeacea Prostrate is the native for you! This fast-growing ground cover is great for adding a mass of colour to your garden. An abundance of small pink flowers appears during autumn and winter which will brighten up any part of your garden. This plant looks particularly stunning trailing over a low wall or your verge, growing to 1m wide.
Westringia sp. 'Jervis Gem'
If an all-rounder is what you want then Jervis Gem is your pick. Jervis Gem belongs to the Westringia family – a species known for its hardiness and tolerance of many conditions. The Westringia sp. 'Jervis Gem' is an excellent, compact growing plant, great as a low hedge or screening plant and will maintain its compact shape. It produces small purple flowers throughout the year and grows to a height of 1m.
Crowea exalata 'Southern Stars'
This stunning shrub adds the colour your autumn garden needs. Delicate with fragrant green foliage – the southern star produces masses of pink star-shaped flowers throughout most of the year. Well suited to pots with good drainage Southern Stars will do well in a more shaded part of your garden and will look great when contrasted with other colours.
Click here to shop Southern Stars
Melaleuca viridiflora 'Autumn Flame'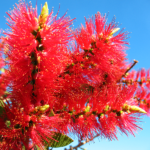 If you want a punch of colour in your autumn garden look no further then Melaleuca Autumn Flame. This medium tree grows to 5m high and produces a mass of small red bottlebrush flowers during autumn. This plant is suited to any garden including wet areas, as long as it gets full sun. This is a native to W.A. and one of our favourites!
Click here to shop Autumn Flame
Dwarf Acorn Banksia (Banksia prionotes Dwarf 'Kalbarri Candles')
Banksia prionotes is known for their unique, large acorn-shaped flowers that appear during autumn. This species makes a fantastic feature plant growing to a manageable size of 2m high and 2m wide. Like other banksias, this plant is great for low maintenance gardens with the less attention they receive the better they grow.
Click here to shop Dwarf Acorn Banksia
Red-Cap Gum (Eucalyptus erythrocorys)
This eucalypt is one of the most stunning sights when in flower – with its bright yellow flowers growing up to 7cm across! The flowers are accompanied by deep red buds making a contrasting colourful display. This tree is a popular street tree, growing to a height of up to 8m making it great for summer shade and as a feature plant in larger gardens.
Click here to shop Red-Cap Gum
Radiant Magenta Swan River Daisy (Brachyscome multifida 'Radiant Magenta')
Popping with colour the Radiant Magenta really lives up to its name. This plant is perfect for pots or hanging baskets as they reach around 30cm high and 50cm wide. The bright colour really adds to any area and if you really want to make a statement, group planting will really add a splash of eye-catching colour!
Click here to shop Radiant Magenta
Pincushion Hakea (Hakea laurina)
A stunning feature plant for the garden, this is one of the most sought after plants due to its unique round flowers. Growing as a shrub or small tree, Hakea laurina is perfect for smaller gardens and is a W.A native! The unique pincushion flowers are pink and cream in colour, appearing during autumn and adding a great talking point to your garden.
Click here to shop Pincushion Hakea